A companion for
diabetes

complications.

Our bodies are always sending us signals, Utu helps you listen and decipher the signals into meaningful action.
Android & iOS
macOS
Online
Windows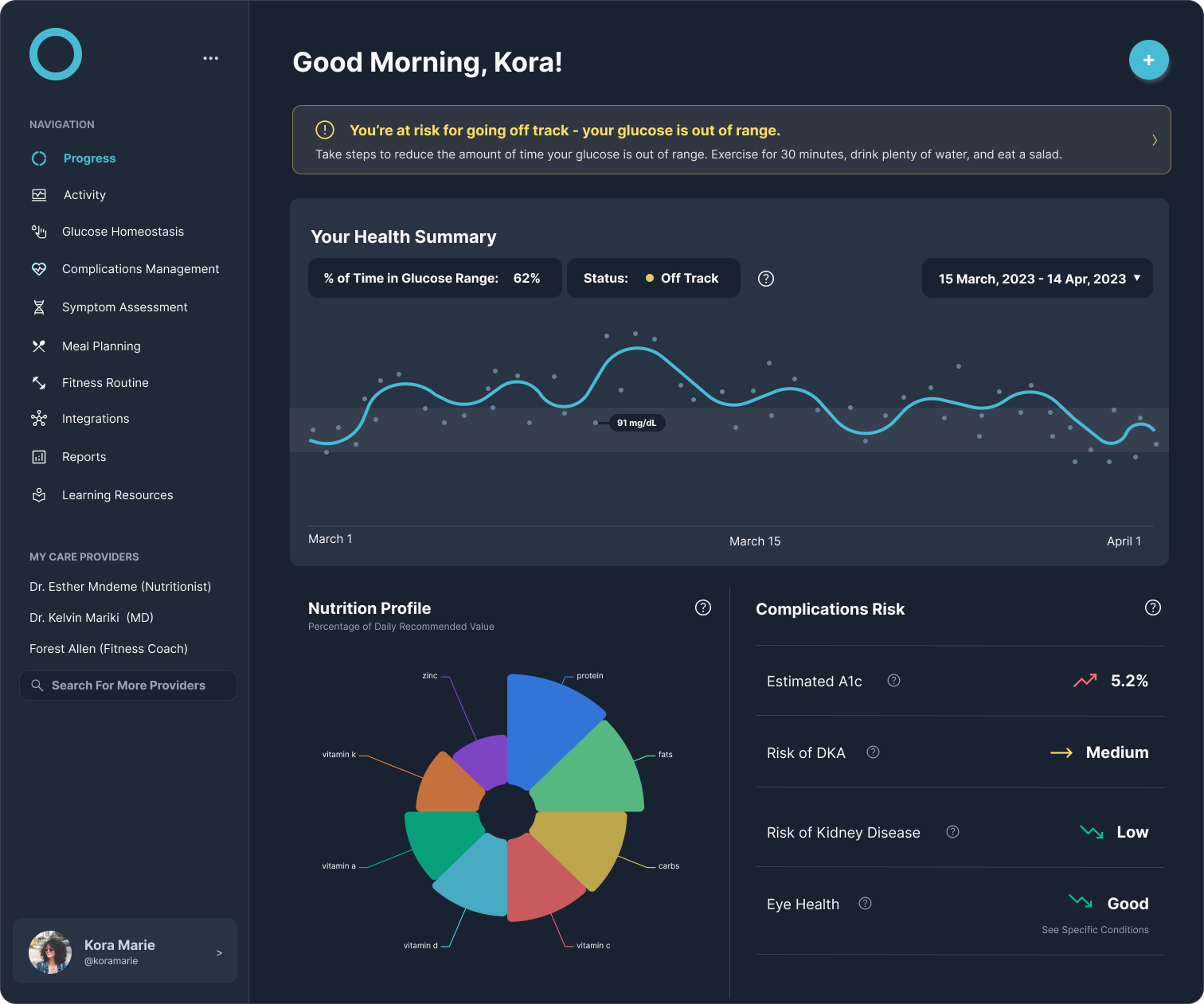 Features
Personalized features for better care.
Utu is built for individuals with diabetes who care about their health and want to use data to better manage their condition.
Go beyond glucose monitoring.

Proactively manage and predict your body's responses before they happen. See how your daily activities impact your blood sugar and get recommendations for how to stay on track.

Assess risk of complications and monitor disease progression.

Get ahead-of-time predictions and alerts when you're at high risk for complications like hypoglycemia, DKA, or diabetic retinopathy.

Personalized meal plans & nutrition tracking.

Healthy, nutritious food is critical for glucose management and optimal health outcomes. Utu lets you generate meal plans based on what nutrients your body needs and how your body reacts.
Everything you need
Monitor your complications in one place
Be proactive about your health, track and manage symptoms, and get recommendations when your risk for complications is high.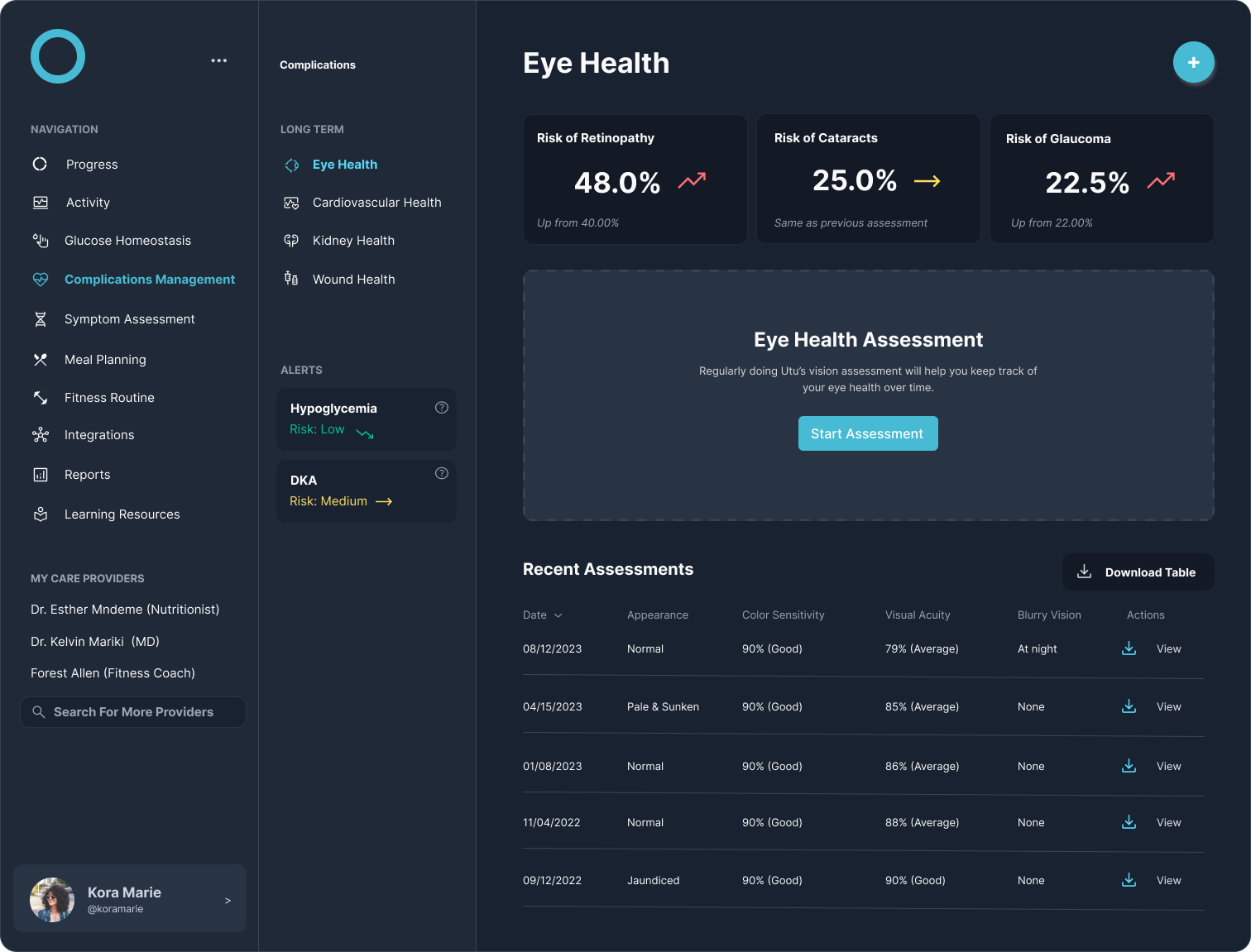 Connect with others

You should never feel alone on your care journey. Utu's community is designed for you to learn from others and share what matters to you.

Share information with your doctor

Give your doctor insights into what is happening between visits so that they can see the full picture when making health decisions for you.

Control your data, forever

Your data is your data. Utu gives you controll over all your data. You can share, or delete it whenever you want.
The power of a diabetic care team in the palm of your hand.
Utu's mobile application is designed with your busy lifestyle in mind. Use it to capture data throughout the day - record your glucose, input your meals, track your exercise - and then come back to Utu's web platform for high powered insights.
Frequently asked questions
If you have anything else you want to ask, reach out to our support team by sending us an email and we'll get back to you as soon as we can.
I am a diabetic. How can I start using Utu now?

We are currently in closed beta, as we try to validate our ideas and perfect our algorithms. To get early access and help define the direction of the project, please register for your invitation above.

I am a healthcare provider. How can I access Utu?

If you're interested in using our tools to connect directly with patients, shoot us an email. Utu Clinical will give you access to rich data and allow you to extend care beyond your office.

When will my billing cycle start?

If you are joining the believer tier, you will be charged now. You will get 1 year of access with the special discounted price when we launch.

I represent an insurance company. Can we give our patients Utu?

We'd love that! You'll benefit from decreased spend on care. Contact us for access to a bulk subscription for your clients.

How do your predictions work?

We build state-of-the-art algorithms for decision support by leveraging data and expert knowledge. We work with health experts and technologists to test and evaluate the models before using them.

How do you learn from others to give me predictions?

The power of Utu is in the network of users. We're able to learn from one person's data in a privacy-preserving way and leverage those algorithms to provide predictions for another, similar person.

What do you mean my data is private?

Your data lives directly on your phone. We don't have access to it unless you want us to store a copy for backup purposes. And even if we do have access. we never sell your data. This will be true forever.

Can I use Utu through my clinic?

Yes you can. If your clinic is subscribed to the Utu Care platform, you can get access for free. Contact your clinic to see if they are enrolled with Utu Care.

Can I connect my CGM?

Right now we don't have a way for you to connect your CGM. If this is something you would like to see - shoot us an email!

Where can I give you feedback?

If you are already using the Utu app or platform, you can give feedback there directly. If you'd like to contact us outside of the app, you can email us here.